Hoogland, Holland de Noot
06.11.2011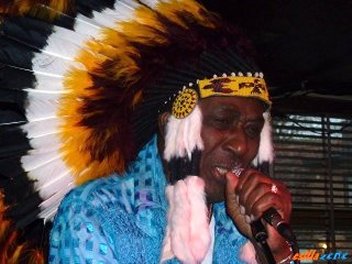 The settings where ok. A good blues pub, full house. So, a lot to look foreward too. The Juke Joints started to warm up. They did it in the Juke Joints style that means you have to move. They play an enthusiasticly kind of music, fit everywhere, on a street corner, a small pub, a festival podium, a concerthall it does not matter where you put them. They get any audience moving.
After a good pumping intro, there was Eddy!! The Chief!! Clearwater!! On his head Indian fethers, like a real Chief!! And from there it was a wonderful event what brought the audience in de Noot in a wonderful mood!!
Not only Eddy's vocals were pure, his guitarplaying was also very good. Strange to see how a "lefty" plays with the strings up side down ... but as long as it sounded as it did, than who cares. Together with Boogie Mike he was a good team, trading solos.
It is difficult to mention which songs were the best, the rockin' ones, ore the slow Blues ones ... Highlight's for me? Of course "Too old to get married", (from his latest cd called "West Side Strut") and also "Black Night" , "Checkin'up on my Baby" and…"Walking thru the Park" were incredibly well performed by the Juke Joints and Eddy.
How good Eddy was, let's not forget to praise the Juke Joints. Sonny Boy was playing like a Hammond, always there with a tune from his harmonica, great solos. The bass playing by Derk was pumping in the rockin' numbers and tender in de slow blues. On the drums ofcourse Peter Kempe who played after the break ofcourse his mandolin act "Going To My Hometown".
After the break Eddy survived the tempo of the Juke Joints, it kept the fire they put in before the break and together they made show they can be proud of. We as audience have something to think back of...
Playing behind his head, dancing while playin rockin' songs, Eddy gave it all. Remember, the man is 76 years old. After the encore that was like a medly .. with a lot of singing from the audience, and a super big smile from the Chief himself. It ended in a wonderful atmosphere there in that excellent Blues Café de NOOT. Compliment again to the people who made things possible, Henk & Hilda.THANX!!
Ps: For me some more special ... I was there with Csilla, ChuChuMaMa herself
Burney for Csilla
Dear Burney! It was a pleasure to me that you came with me and even took me home. Very special thanks to Peter Kempe for the ticket.