Hoogland, Holland de Noot
03.06.2007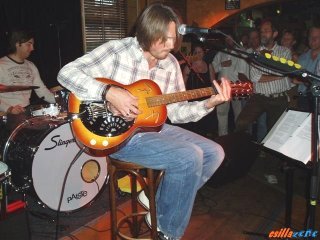 While Ian tours to the occasion of his new cd called "Where I belong" he wanted to have all an acoustic concert. The place for it he choosed (luckily) my favourite Blues club called de Noot. It is in a small town called Hoogland near the big city Amersfoort in the middle of Holland.
A perfect atmosphere and Ian knows the place well. He performed there already several times.
It was some crowd and already after two songs the tone was set. It would be wonderful. What is it when listening to Ian Parker and his band life. They take the audience in a kind of trip in which the feeling is wonderful. The acoustic guitars Ian used gave it all a kind of sweetness and comfertable sound the band created on the stage.
Steve Amedeo on Bass just relaxed sitting and played with soft hand in all just enough to let it all slide by in things.
Wayne Proctor on drums many times used soft stick ore brushes but when needed in some songs powerful beating was there...
Morg Morgan on the electric piano filled the holes. He played with a joy and feeling which was so nice to undergo and also Ian's second voice on stage... really relaxed in playing.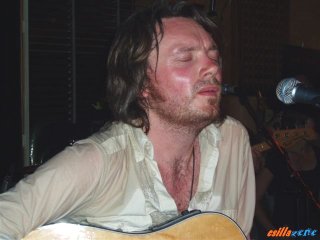 Just before the break Ian played his great song "It hurts a man" which he wrote when his grandmother died. The audience exploded after finishing the last tune of that song. Really, the solo he played was wonderful.
After the break it took some time to put the audience where he left them before. But he did and songs from his new album where played.
After the promise he would like to record an acoustic album he played Jimi Hendrix "Little wing". It was with the feeling and spirit which made his acoustic guitar sounds so nice. Of course the audience kept screaming and shouting for more. And we got it...
Solo he played U2's "With or without you" the audience did also sing it with him. We just did, it had to be like that, we where under Ian's spell at that moment. It was wonderful to undergo... Go to and listen to that song yourself and I will bet you shall sing along with it too.
A wonderful evening with a great performer. In my opinion, he may play acoustic more... aldo I can advise anybody also to go sometime to one of his normal concerts... you will be surprised in a very pleasant way...
Burney for Csilla
Photos: here