MARCEL SCHERPENZEEL plays RORY with GERRY McAVOY & BRENDAN O'NEILL
Zaandam, Holland de Kade
06.04.2008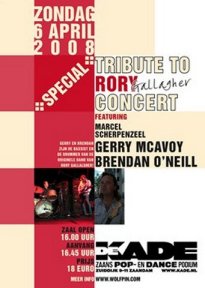 Can dreams come thru? We often wonder about that but for one talented Dutch guitarplayer on 6th of April HIS dream came thru.
From the age of 12 years Marcel Scherpenzeel dreamed of playing one time like Rory Gallagher did, and he did, with Rory's rythemsection in de Kade in Zaandam. If any place is suitable for playing live music, it is that place.
Let's go to work!! Marcel announced and Kicked off!!!
Some nervous Marcel started with the "Continental op" and because of the confident look of Gerry McAvoy he lost his nervs and at the end of that first song he was loose... And that was the point already early we realised that something special would happen that sunday afternoon.
Many Rory classics came by played with a big heart and intens raw Rory sound on Marcel's fender. He pushed the limit in songs as "Secret agent" and his version of "Bad Penny" was awsome, he put a guitarlick of his own in it, and it made Gerry say: "do it your own way man!!" ...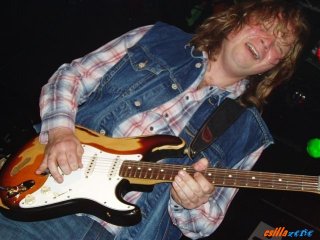 "Cradle Rock" was pumping, and there we also could hear that Rory's formal band members also play with their heart, and there was a good kind of understanding between the three musicians...
There even was an acoustic break when Marcel took his acoustic guitar and played "Out on the Western plain" , and not needed to say that the whole audience took part in that song.
After that, we where treated on another musical surprise, because......Peter Kempe - The Juke Joints - came on stage with his Mandoline, and he played with Gerry and Brandan the all time Rory Classic "Going to my hometown" ... and the chickenskin was everywhere...
Marcel came back with his Stratocaster, and killed us with "Walk on hot coals" ... and, for the first time I was at a Rory tribute, the rasping solo was played as it should be...incredible playing, and McAvoy's mouth was open because of it...
"Tattood Lady" was good, but as with "Walk on hot coals" I never heard it played like it should be, so, something to dream also remains for me... but, Marcel came close!!
MARCEL SCHERPENZEEL plays RORY with GERRY McAVOY & BRENDAN O'NEILL
thanks to antonien2106
Ofcourse he played many more songs, but these are the ones who made more difference.
At the encore we where treated on a long version off "Messin' with the kid" , and we knew, we were witnesses of a very special musical treatment which shall not be forgotten...
This Marcel Scherpenzeel was awsome, and even Rory's Duck walk was there several times, and the joy he spreaded in being busy with his guitar was a delight for the soul.
He told his adrealine was pumping around so heavy that he hoped his heart would hold out, but... playing with like he did with his heart, can only be a medicine for that heart, and for his soul. And the best part of that deal was that he made about 500 people more than Happy with his performance. Gerry and Brendan were professional, and gave Marcel the confidence to give it all to the audience.
Burney for Csilla
Photos: here