Kecskemét, Hungary, La Fabrique (Rock Café)
05.04.2007
For me as a Dutch guy it was a wish already for a long time to see and hear a concert of the P.Mobil band. My "Balkan Blues Brother" Djughee and his daughter Kata already gave me some material of the band. I liked that, specially in my car on my way to concerts in Holland.
When I came to Hungary in April there was a surprise concert planned for me. My host, Kata, brought me to a place called the "Club Fabrique" at Kecskemet.
When recieving my entree ticket, I saw it was a concert of the P.Mobil Band. I felt really exiting and so much wonderful for me and after some waiting to build up the stage. Finally managed to understand it really would happen, the Band entered the stage and already from the beginning it was a powerful and energic show which hit me like a sledgehammer.
We where on the first row at front of the stage, and worried before the concert it could be some to hard in sound, but really the sound was very well. The soundman did an awful good job in his work - because the sound was really good. I had the pleasure to stand opposite Egon Poka to see and hear him play the bass guitar was for me something wonderful to undergo. What a power he puts into his playing, and it all look so simple in what he is doing, but really it was magic.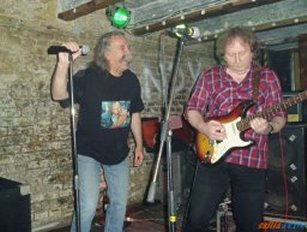 Lorant Schuster the entertainer was everywhere on stage. Joe's Rudan voice was powerful and raw. The engineroom was for Gabor Nemeth, and his steady playing was the restpoint in a Rock & Roll show which took me everywhere.
Some songs I was able to sing along aldough no idea what I was singing. At a certain point the 2 forint coins flew over my head on the stage.
Nice guitarwork from "Willy" and his young but talented companion made the finishing touch on a concert I shall not forget.
I also had the great pleasure to go backstage afterwards to shake hands with the bandmembers, and talked some with them. Really, for me an evening was a surprise and a wonderful experience in my concert visiting...MOOOOOOBILLLL!!!!!!!!!!!!
Of course to thank for my host who took the time and effort to arrange it all for me, I am in deep gratitude for it...THANKS!!!!! A big thanks to the person who gave me the Wonderful T-Shirt of the band. I will wear it with en shall be proud of it.
During the trip back to Budapest I already thought of the fact that I will seethem again in Pecs in summer at the Rock Marathon MOOOOOOOBILLLLL!!!!!!!!!
Burney
Photos: here