20.04.2007
On the program was at first the Ruben Hoeke Band which I really looked foreward too. I saw them at their CD presentation last year. They surprised me so much in their playing. And again they surprised me on the 20th April in the Kade .
With a new drummer, they start to play their songs from the Sugar album, and the style already from the start was super. Aldough there were not so many people, they did not care about that, and played with power. When they start Midnightprayer, the chickenskin became more heavy. What a wonderful song, and performed life, it is even better than on the cd, because they put all into it life. Frankie Pardo went deep in it and Ruben with his smile just played his part with such fire, that I was afraid his Gibson became on fire.
The also excellent Harmonica playing of Frankie was as usual so good, and all together with the new drummer the band was flying. Then for fun they started to play some Led Zeppelin songs and I must say: awsome good. Their drummer exploded in his solo.
RUBEN HOEKE BAND
thanks to Ruben0910
The smiles at the faces of the band members during the whole concert was something wonderful to see aldo Frankie was as serious as always but with a rhythm section like this band has now, and the guitarplaying of such talented man, together with the voice and Harmonica of Frankie. It only can mean that we will hear much more of them in future...and if the next CD will be a live Cd...than they can let everybody who listen to it understand what it means if a band got the message in things...let it be a live CD please Boy's?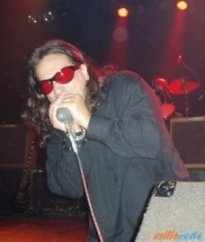 After Ruben's strong concert difficult for Johnny to get the audience (approx. 150 people) in the same way Ruben did. But Johnny and his band just started their concert from the start with powerful harmonica sound, and already it became clear that his guitarplayer was in shape, and with some short guitarlicks he was letting us know their was more to come out off his instrument that evening.
The music style of the band is of course sealed with the harmonica in it much, but somehow the guitar was this night the instrument to deal with. Only a pity the drumwork was just simple, and it was way behind the other intruments. If it had been more powerful and so much the "Traditional" stuff, it had been better for everyone.
The Bassplayer was as steady as expected and with wonderful high tunes he surprised me in his "Jolly" playing like that. But than the guitar...he was from another world...really...and one the song "Angeline" the guitarplayer also took care of the vocals. He played the slide guitar, and I saw and heared slideplaying I never heard before: so pure, and he went in trance during this song, just as the audience, and it exploded in a brilliant solo which seemed not to end but we did not mind at all. Writing now these words the chickenskin is back totally.
The whole concert was so to say also more than expected. I saw Johnny two times before and it impressed me in a good way again.
Johnny's vocals are straight and his harmonicaplaying is as always from the deep inside of him. I had some small hope he and Frankie could do some harmonicaplaying together in things and surely I would have seen Ruben and Johnny's guitarplayer pushed each other up to superhighlight's...but sometimes dreams stay just dreams...
The band which comes all the way from Long Beach USA and touring now in Europe will always give their audience the Good Blues Feeling in things and that is what it is all about. Always a pity things must end sometime but I went home with the Good feeling in things. Thanks for the Blues!
Burney for Csilla
Photos: here